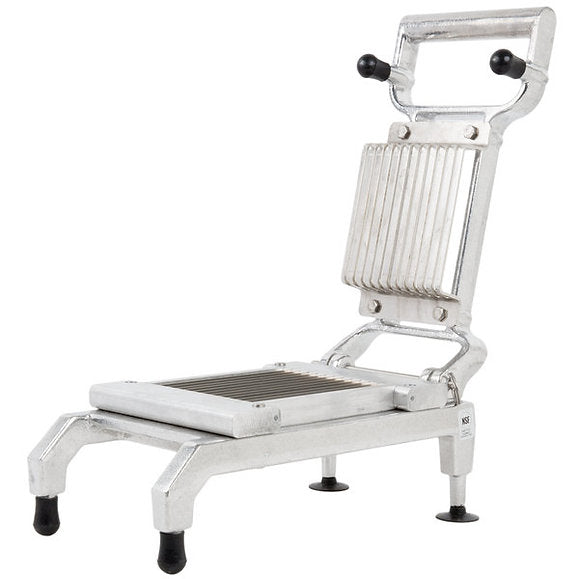 Nemco Easy Chicken Slicer™
Original price
$638.95
-
Original price
$722.95
Model: 55975
Cut your labor with the new Easy Chicken Slicer. The ingeniously simple design features a unique assembly of unsharpened blades that make quick work of cooked chicken breast either breaded or grilled. Compared to the conventional knife-in-hand alternative, the Easy Chicken Slicer performs with superior speed, consistency and, above all, safety—with virtually no training required! It's rugged, compact and portable with aluminum and stainless steel construction that lasts for years in the commercial kitchen. Cleanup is a breeze because, while disassembly is as easy as pulling a pin, the pusher block and the blades are also specially designed to minimize lodging of the chicken meat.
The Nemco Easy Chicken Slicer makes cutting strips of chicken faster and provides greater portion control than the conventional knife-in-hand method. Its intentionally unsharpened blades make the process safer than ever as well. Simply place your product on the blades and forcefully pull down the push block to cut the product and reduce prep time.

Ideal for cutting strips of grilled or cooked, breaded chicken for salads, wraps, and other chicken strip meals. The blade assembly makes a wide cut that helps control portion sizes and save you money, and it can be used on other tender meats like turkey and roast beef.

Suction cup feet secure the Nemco Easy Chicken Slicer to any flat work surface, and the space under the slicer's cutting grid can accommodate a 2 1/2" deep, half size food pan.

Clean up is as easy as pulling a pin! The Nemco 55975  Easy Chicken Slicer disassembles easily and the push block and blades are specially designed to minimize lodging of meat.

For the freshest menu items and the tastiest profits, put the Nemco 55975 Easy Chicken Slicer to work in your kitchen! Comes in various sizes to fit every need.
Key Features
Nemco makes the best chicken slicer! Sturdy and VERY easy to clean
Cleanly slices cooked, breaded or grilled chicken breast for wrap sandwiches and salads
Consistent 1/2-inch, 3/8-inch, & 1/4-inch cut size for portion control"Unsharpened" blades for worker safety
Improves kitchen safety - features unsharpened, safety blades that cut through chicken without risk of injury
Increase profits with portion control